The U.S. Partnership for Education for Sustainable Development
GOAL:

The U.S. Partnership consists of individuals, organizations and institutions in the United States dedicated to education for sustainable development (ESD). It acts as a convener, catalyst, and communicator working across all sectors of American society.
VISION:
Sustainable development fully integrated into education and learning in the United States.
MISSION:
Leverage the UN Decade and post-decade activities to foster education for sustainable development in the United States.
CALL TO ACTION
We need more than individual actions to build sustainable communities for all. Please heed the calls to collective action that are arising from our partners for a shared sustainable future.
The UN Sustainable Development Goals are driving the world community towards real progress by 2030. The 17 goals improve quality of life for all humans while conserving the natural world for future generations.
_____________________________________________________________________
SELECTED NEWS ITEMS FROM US ACTIVITIES
also see "Newsletters" at the top of the page and "Partner Resources"
Shaping the Future We Want: Final Report of the UN Decade of Education for Sustainable Development
Review the report about EDS activities in the United States written in part by the U.S. Partnership and submitted by the U.S. State Department to UNESCO.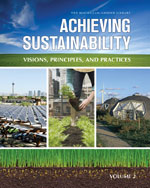 This two-volume encyclopedia edited by US Partnership President, Dr. Debra Rowe and US Partnership Fellows, Susan Gentile and Terry Link has more than 130 lengthy essays on key elements of sustainability written by a global team of scholars and practitioners. Resources are included to help interested citizens go deeper, get connected to organizations involved in moving sustainability beyond vision into action. Published by Macmillan and available in print or e-book versions. For more info see here.
Green Economy at Community Scale is an important look at possible, community scalable sustainability policies. Written for the Metcalf Foundation by noted economists Tim Jackson and Peter Victor. This is available free for downlaoding at the Metclaf Foundation website.
Acting as if Tomorrow Matters: Accelerating the Transition to Sustainability
(Environmental Law Institute Press 2012) This book by John Dernbach explains in detail how to make a greater variety of more sustainable decisions even more attractive, how law can provide an even better enabling environment for sustainability, and how public opinion and leadership can be more effectively engaged to support sustainability.
"Acting as if Tomorrow Matters offers a sweeping review of America's sustainability journey, tracking progress -- and slippage -- across a wide range of critical issues over the past 20 years. Even more powerfully, it charts a course toward a truly sustainable future, highlighting the advances in law, governance, incentives, education, and political mobilization that will be required." -Daniel C. Esty, Hillhouse Professor of Environmental Law and Policy, Yale University
For more info or to order, click here.
Climate Change and Mental Health
NWF released a report on how climate change will affect the state of mental health among Americans. Many in the scientific and policy communities are familiar with the existing and prospective physical effects of planetary warming but there has been less study and assessment of how it will impact Americans from psychological standpoint.
The report, funded by the Robert Wood Johnson Foundation, explains how a rise in the number, intensity and reach of violent weather events, natural disasters, heat waves, water shortages, crop failures and more in the coming decades will lead to devastating psychological effects among children, the elderly, low income residents, people living is disaster prone areas, and people with preexisting mental health conditions. They will all suffer on a scale we have never before witnessed and America's current $300 billion in annual mental health expenditures with skyrocket. The reach will extend to over 200 million people in the U.S.
UN Entities Launch Higher Education Sustainability Initiative
Five UN entities have launched the Higher Education Sustainability Initiative aimed at committing leaders of the international academic community to develop sustainable practices for Higher Education institutions, ahead of the UN Conference on Sustainable Development (UNCSD, or Rio+20).
The UN Academic Impact (UNAI), UN Environment Programme (UNEP), UN Educational, Scientific and Cultural Organization (UNESCO), UN Global Compact (UNGC) and UN University (UNU), together with the UN-supported Principles for Responsible Management Education (PRME), have launched the initiative, which calls on leaders of Higher Education institutions to sign a Declaration of Commitment to Sustainable Practices of Higher Education Institutions. The Declaration commits them to, inter alia, the teaching of sustainable development concepts as part of the core curriculum. The initiative notes that because Higher Education institutions educate and train decision makers, they play an important role in building more sustainable societies and have a special responsibility to provide leadership on education for sustainable development.

The Declaration that institution leaders are invited to sign also commits them to: encourage research on sustainable development issues; "green" campuses by, among other things, reducing the environmental footprint through energy, water and material resource efficiencies in buildings and facilities; support sustainability efforts in the communities in which they reside; and exchange knowledge and experiences, and report regularly on progress and challenges, through international frameworks, such as the UN Decade of Education for Sustainable Development.
Secretary of Education, Arne Duncan gives keynote address at Sustainability Education Summit - "Today, I promise you that [the Department of Education] will be a committed partner in the national effort to build a more
environmentally literate and responsible society... We must advance the sustainability movement through education... Education and sustainability are the keys to our economic future-and our ecological future... We are proud to be... jo
ining you in this work, and hopeful about the impact we will make together.- Click here for full text of speech.
Sept. 20-21, 2010 (Washington, DC) - The U.S. Department of Education, in coordination with other federal agencies, hosted the "Sustainability Education Summit: Citizenship and Pathways for a Green Economy". The summit discussed elements of an agenda and proposed action steps for education, business and industry, government and the environmental community to promote the transition to a sustainable, green economy. Some 250 national leaders from education, business and industry, government and NGOs worked together to form shared visions and strategies for education's role in building a sustainable, green economy. Keynote speakers included: Secretary of Education Arne Duncan; Under Secretary of Energy Kristina Johnson; Michael Crow, president of Arizona State University; and Chad Holliday, chairman of the board of Bank of America and former CEO of DuPont. US Partnership president, Debra Rowe spoke on a panel, and six other members of the US Partnership Board participated.
See NWF Campus Ecology Blog entries from the Summit:
K-12 and TEACHER EDUCATION SECTOR TEAM RELEASES VERSION 3 of NATIONAL SUSTAINABILITY EDUCATION STANDARDS
The Education for Sustainability (EfS) standards were developed by the K-12 and Teacher Education Sector of the USPESD with input from K-12 educators in public, private, and pre-service (teacher education) fields. Version 3 of the standards includes content updates and clarifications in response to expert and general public review and comments.wnload Version 3 of the National Education for Sustainability Standards.
THE EDUCATION FOR SUSTAINABILITY NATIONAL PROFESSIONAL ORGANIZATIONS SUMMIT
This one-day, invitation only, summit was held October 6, 2008 in Washington D.C. The summit brought together executive staff from a select group of key professional organizations whose members are directly involved with K-12 education and/or the professional preparation of K-12 teachers and administrators. The purpose of the summit was to promote development of a sector-wide strategy for integrating education for sustainability into the teaching and operations of U.S. K-12 schools. To view a presentation from the summit click the links below:
The Education for Sustainability National Professional Organizations Summit: Part 1
The Education for Sustainability National Professional Organizations Summit: Part 2
google-site-verification: googlee42a686788f31dc0.html
Google Verification